Circles® Guelph Wellington is a community-based initiative that creates relationships across 
economic boundaries. It matches people of low-income who have attended the Getting Ahead program with people of middle- and upper-income who have attended Bridges training.
Circles® is a high-impact, 18-month-long voluntary strategy designed to:
– provide emotional and practical support
– assist with complex issues
– build the "social capital" of people living in low income situations
– show the community the very real barriers holding people in poverty
– walk with people in poverty and support positive changes in their lives
The Circles® program has been used in dozens of communities in the US and Canada. It is a proven and credible program that makes real and on-going change for individuals and our community.
A "circle" consists of three types of people —
1. Circles® Leader –   An individual or family of low income who is interested in becoming self-sufficient.
2. Allies –  two or three volunteers for each Leader who engage in a mutual, caring relationship with an individual or family working to become self-sufficient.
3. The Coach – The Circles® Coach supports Circles® Leaders and Allies in fine-tuning personalized action plans. The Circles® coach is a paid position that has received specialized training to support and manage the Circles® program.
THE GUIDING COALITION
The Circles® Guiding Coalition is a volunteer advisory board that includes people from various economic classes and sectors who are committed to helping the Guelph Wellington Circles program run successfully. The Guiding Coalition meets monthly.
THE BIG VIEW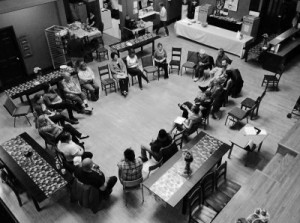 Leaders, Allies, Coaches and the Guiding Coalition come together at a scheduled meeting called "The Big View." These meetings, which can include over 50 people, provide an opportunity to examine barriers that hold people in poverty.
ABOUT CIRCLES® GUELPH WELLINGTON

Circles® Guelph Wellington is a community based partnership that is committed to specific and positive actions to reduce the number of families dealing with poverty in our community.
HOW TO GET INVOLVED
1-800-265-7293 ext. 4395 (Elaine Weir)
or
Ken Harvey, Circles Coordinator
Manager, Employment Services
County of Wellington, Ontario Works
519.823.7887 x 3062